Katy Trail State Park and Biking Trail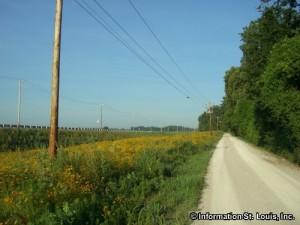 Katy Trail State Park and Biking Trail
Eastern Trail End: Machens, Missouri 63386
Western Trail End: Clinton, Missouri 64735
Trail Length: approximately 237 miles from Machens to Clinton
800-334-6946 (Missouri State Parks)

Amenities: A hiking and biking trail in Missouri that follows the old route of the MKT Railroad Line along the Missouri River. It is 237 scenic miles of crushed limestone gravel that never exceeds a 5 percent grade and is 8-foot wide and considered wheelchair-accessible at most trail heads. There are 48 towns or trail heads along the route that offer varying services and facilities, ranging from maybe a parking lot or a restroom to bed and breakfasts, wineries, grocers and more. Bicycle rentals are located at many of the trail heads.